Products
Ceramic Pump ET-Series
Overview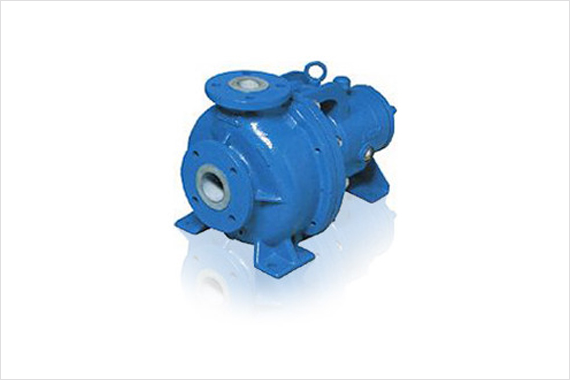 ISO standard ceramic pump
The pump complies with ISO2858 (international standard) and has a back-pullout structure, which allows replacement of the shaft seal device while the piping is still in place. The wetted parts are made of ceramics.
Chemical transfer lines for the electronics industry, medical and agricultural chemical manufacturing plants, etc.
| | |
| --- | --- |
| Flow rate | 0.05〜5m3/min |
| Pump head | 10〜60m |
| Max. operating temp. | 140℃ |
Features
Corrosion Resistance

Wetted parts such as the casing and impeller are made of NGK's ceramics designed/developed for the chemical industry, which has the highest corrosion resistance against almost all acids and organic solvents. Furthermore, there is no risk of corrosion due to permeation of chemicals, which is unavoidable with resins, and no risk of electrical corrosion, which can be seen with corrosion-resistant metals such as titanium.
However, it cannot be used with alkalis, hydrofluoric acid, or fluorine compounds since ceramics are not corrosion resistant to such substances.

Pressure and heat resistance

Pump structured with ceramics making its strength and heat resistance characteristics quite reliable. The ceramics structure armored with FCD-S (ductile iron castings) creates an extremely solid structure. In addition, since it is made of ceramics, there is no thermal deformation, and the best performance is maintained over a long period of time.

Abrasion Resistance

The high-strength ceramics used in the ET type ceramic pump has high abrasion resistance and excellent durability against chemical solutions with slurry.

Operability

The pump conforms to international standards (ISO2858) and new JIS standards making plant design easier and more compact. In addition, the back-pullout structure makes maintenance extremely easy, as parts can be replaced and serviced without removing the piping.

Compatible Compatibility

NGK pumps that comply with international standards demonstrate full interchangeability of parts, and parts are shared with Chemiflow pumps.

Pump Performance

The excellent pump efficiency achieved by the high-strength ceramic impeller reduces the running cost.

Shaft seal reliability

Based on our rich experience in the field of corrosion and abrasion resistant pumps, we offer a variety of shaft sealing devices. This ensures leak-free and trouble-free operation over a long period of time, and reduces maintenance costs.
Caution
This product is among the restricted product types listed in Appended Table 1 of the Export Trade Control Order. Export requires export permission based on the Foreign Exchange and Foreign Trade Act and other relevant laws.