Products
Corrosion Resistant Equipment
NGK Chemitech's corrosion-resistant equipment has an extensive track record in various industrial fields where high corrosion resistance is required.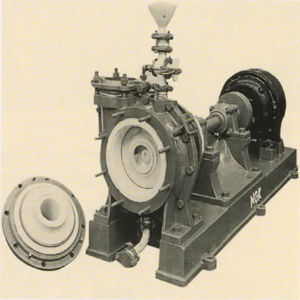 NGK Chemitec offers pumps, valves, and lining equipment that utilize ceramics and PTFE for the chemical industry with excellent corrosion and heat resistance.
NGK Chemitech has a long experience in processes requiring high corrosion resistance, such as petrochemicals, commodity chemicals, steel, pharmaceuticals, and fine chemicals.
NGK ceramic chemical pump was developed as early as 1933 shortly after company's foundation in 1919 and has served various industries since then.
Features
High corrosion and heat resistance

NGK-developed ceramics for the chemical industry have outstanding corrosion resistance to most acids and organic solvents (but not to alkali, hydrofluoric acid or fluorine compounds), and are not deformed by heat. PFA (perfluoroalkoxyethylene copolymer) has outstanding corrosion resistance to all acids, alkalis, and organic solvents, with no elution of organic matter or ions.

Wide range of products

We offer a wide range of Ceramic lined and PTFE lined pump and valves.

High reliability

Based on our rich experience in the field of corrosion resistance, we provide equipment that is maintenance free for a long period of time, contributing to lower running cost.
Product lineup
Caution
Our Fluoroplastic lined products are among the restricted product types listed in Appended Table 1 of the Export Trade Control Order. Export requires export permission based on the Foreign Exchange and Foreign Trade Act and other relevant laws.